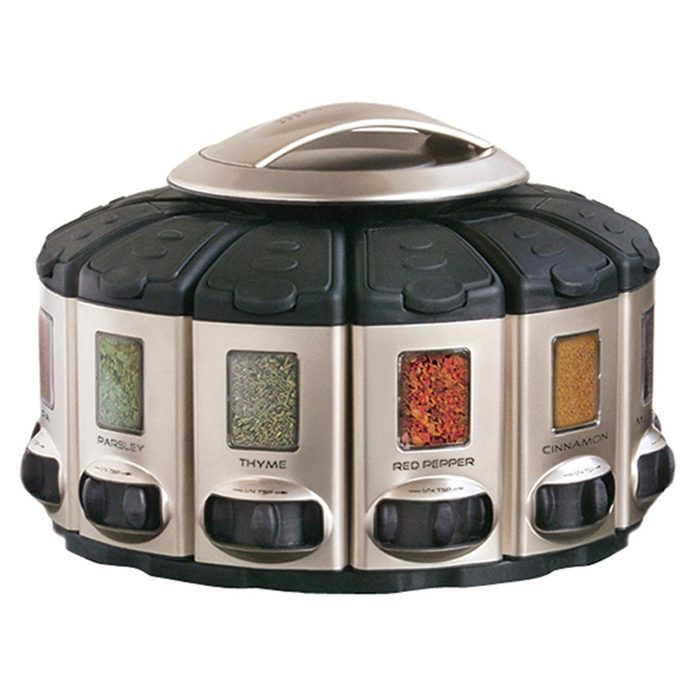 In the age of Uber Eats and Grubhub, preparing your own meals seems like an uphill and a time-consuming task. We bring to you a list of top kitchen-gadgets to make cooking an enjoyable experience. To put it simply, gadgets are handy-inventions that prove useful in one's day-to-day life. The purpose of these gadgets is to reduce human-effort and save time. These gadgets are a durable, one-time investment with nil-to-low maintenance costs. Finding proper gadgets can be a time-consuming task too. But, do not worry! We have you covered in that department. This article identifies some of the most common everyday kitchen-requirements and curates a list of gadgets most-suited to address the same. Modern-day space constraints in homes have also been factored -in, the gadgets listed here are all spatially economical.
The one lesson that Mark Twain's Tom Sawyer taught me a child was, the moment you start enjoying your work; it doesn't feel like work anymore! Cooking should not feel like a chore or the exclusive burden of just the one person in the house. Cooking ought to feel like a holistic, enjoyable experience that brings the whole family together. With this philosophy in mind, this article has attempted to focus not just on the utility and affordability of the kitchen-gadgets but also whether they are fun to use! Cooking is no longer a gendered-task. Rather, it is an essential life-skill, important for everyone to learn. And so, these gadgets are a quirky and fun little way of inducting your young-adults into the art of cooking. Somebody has rightly termed gadgets as one's clever servants. So, have a happy time cooking and let your gadgets do the heavy-lifting for you!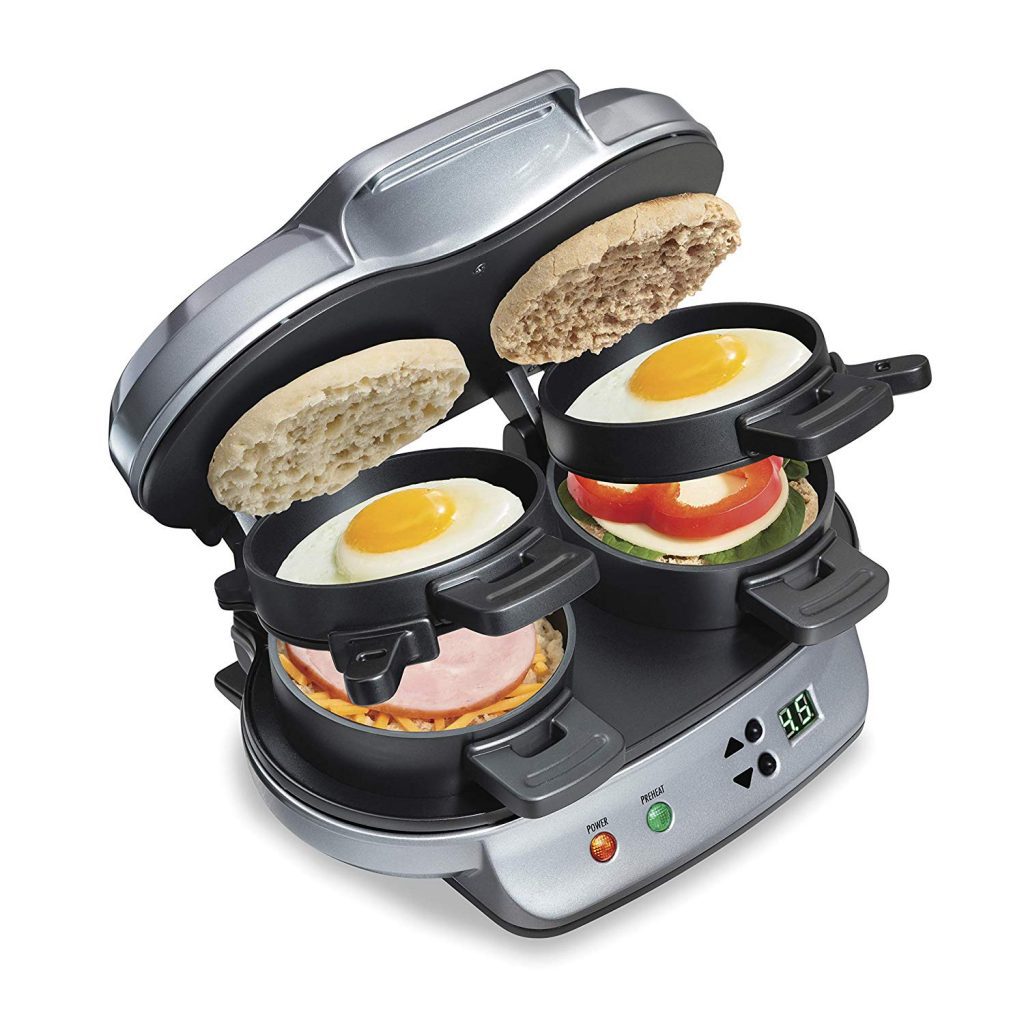 The Hamilton Beach Dual Breakfast Sandwich maker with timer is a quick breakfast solution. It readies your sandwich within 5 minutes. One of the unique selling points of this particular sandwich maker is that all its removable parts are safe to use in a dishwasher, which is something that is often seen as lacking in other sandwich makers. It is electricity-operated and portable, meaning that you can take this sandwich maker on the go with you. One of the two drawbacks of common sandwich-makers available in the market are that there is just a single slot, thereby slowing your breakfast down. Another drawback of other sandwich-makers is that you cannot leave a sandwich in there and start doing something else. Other sandwich-makers require your undivided attention and presence. However, in the Hamilton Dual Breakfast Sandwich maker, there is a built-in timer so you do not have to keep a track of the time on your own.
The KitchenArt 57010 Select-a-Spice Auto Measure Carousel Professional represents a watershed moment in the history of carousels. There are a total 12 different spice compartments. It comes equipped with a dial-release system, allowing it to dispense an exact one-quarter of a teaspoon upon every twist of the dial. Its shape is such that you can mount or place another similar carousel on top of one, allowing you to store 12, 24, or even 36 spices at once. Not only that, this gadget allows you to choose the option of either sprinkling or freely-releasing the spices. It has got two different openings in each compartment for this purpose. This indispensable gadget, pardon the pun, is an ideal going-away gift for your kids studying in another city and interested in cooking on their own sometimes.
No kitchen is ever complete without a chopping board. My mother is always on a lookout for convenient and safe-to-use chopping boards. This has been a difficult balance to strike so far. Very often, chopping boards have a very flimsy and unstable base, making chopping a very difficult experience as you have to constantly keep applying force to hold the board in place. However, the best thing about Kristie's Kitchen Chopping Board with Tray is that it comes appended with a two-way tray. One half is to hold the chopped vegetables while the other half holds the waste-generated. It has also got a good height that makes it really convenient to work on. Its slip-free design makes chopping-vegetables a smooth and an enjoyable experience. For all these reasons, this is a must-have kitchen gadget.
Dough Scraper Bench Knife is your ideal one-stop solution for pastries, nuts, chocolate, pizza, and bread dough. The width of this bench knife is definitely one of its biggest unique selling points. The common drawback of most knifes is that although they may be sharp but they are almost never wide enough to give you the required results in one single blow. Because of this, one has to repeat the action many times over to get a proper cut. What is even more interesting and helpful is that the knife comes with graduations etched onto it, allowing you to cut even portions. It comes with a firm handle to allow you that seamless cutting experience.
The Meshist French Fry Cutter is the answer to your kids' 6 pm hunger pangs. This slicer allows you to prepare perfect French-fries that your kids will love. What is even better is that it is not a time-consuming gadget. All you have to do is place a peeled-potato in the cavity and apply force using the lever. Repeat the process until you have the required volume of sliced potatoes and then fry them. You can even engage your young-adults in this process. They can peel and slice the potatoes while you fry them. This is a great kitchen-gadget that promotes family-cooking. This slicer also doubles up as a salad-maker should you want tomatoes and other vegetables sliced in this particular shape.
The Hamilton Beach Open Ease Automatic Jar Opener is my spirit-gadget, if there was ever such a thing. How many of us have spent countless minutes trying to unscrew a tough jar-lid? How many times did you have to wait for a "stronger" person to come to your rescue and help open the jar? How many times did you end up unsuccessful in the task, thanks to all that grease in your hands from the cooking? Presumably, quite a lot, Even ending up with a splinter or two on our hands. This jar opener is a gift to all of those people who do not have that herculean strength and tact required to open new jars. So, how do I use this jar opener? Well, it is simpler than you would imagine. All you have to do is place the jar on a sturdy-surface. Place the jar opener atop the jar. Press the engage button and voila, your jar is now open and ready to use.
The Shrimp Deveiner Tool is a blessing for sea-food lovers. This gadget allows you to devein shrimp in a single motion. This product is where aesthetics meet resourcefulness and environment. This is not only an easy-to-use and effective gadget, but is made of recycled plastic.
The Germany 304 Stainless Steel Press is a one of its kind kitchen-gadget. It allows you to squeeze different kitchen-ingredients for extracting juice. Be it ginger-juice for ginger-ale or even cloves. Its extended, long-arm ensures that you get the results through relatively lesser use of force too. The bottom part of this gadget is spherical and is large enough to hold reasonable volumes of juiuce extracted. After the juice has been extracted, simply remove the upper arm and transfer the contents into another appropriate container. The generous dimensions also ensure easy and effective cleaning.
The Mini Manual Lemon Press Portable Juicer is an ideal gift for your gym-freak friend or colleague. This gadget, quite literally, is a juice box. It works manually and there is no requirement of an electric plug. The only thing one needs to pay attention to is how to cut the lemon or the orange into two proper halves. Place the lemon or the orange in such a way that its small protruding cap it on the top. Then cut it vertically into two equal halves. Then put each part onto the juicer and twist it around repeatedly until the juice has been fully extracted. Repeat this process again for the second half. The seeds and other residual material will have collected in the upper sieve. This juicer is absolutely safe and fun to use for kids too.
The Meva Smoker Gun Infuser Set is your perfect go-to device for infusing cold smoke in food or drinks. The hose that comes attached with this gadget is sturdy as well as flexible. There are two available options for deciding and regulating the influx of smoke.
The Midnight Scoop is smoother in its functioning than the texture of ice cream itself. Instead of having to put in a lot of physical effort for every single scoop, this scooper does all the heavy-lifting for you. Its functional design allows it to dig deeper all by itself thus saving you the physical effort. That is what gadgets are for, right? To reduce your effort. In fact, its design boasts of utility even for those with the Carpal Tunnel Syndrome, resulting in weaker bones and tingling sensation in wrists. The latest model is even dishwasher safe. There a hundred different reasons to buy this gadget and not a single reason not to.
As a child, I have always been fascinated by the bag-sealers I saw at the supermarket. These bag-sealers were essentially the difference between loose-sold goods and packaged goods. When you get new supplies for the kitchen, it makes sense to store them in different, transparent plastic bags to allow you to identify what is what later. When it comes to making those packets air proof, one has to rely on plastic bands. Well, the Eletional Impulse Bag Sealer is a game-changer. It is a must-have kitchen accessory for everyone. You do not have to about looking for small plastic-containers to store different food items and ingredients the next time you're packing for a trip.
The APPASO Pull Down Kitchen Faucet with Sprayer is a stainless steel product that uses lead-free and eco-friendly material. Not just that, it is also a patented design of superior technology. The faucet comes with three options. These are, stream, spray, and pause. You can press the pause button to stop the flow of water temporarily. More interestingly, this is one of the few pieces of kitchen-installation that do not require expertise for fitting the faucet. There is a simply do-it-yourself manual that accompanies the faucet. You can simply install the faucet without calling any plumbers. Finally, the aesthetics of this faucet are as good as its functionality.
This Vintage Bread Box is not just reminiscent of that picnic you took a long time ago, but its modern design ensures proper ventilation for the food to prevent it from going stale and preserve its freshness for a longer period of time. This bread box can be used to store bread, pastries, and other such food. It has really small air-vents at the back, just enough to allow unhindered passage of air. This is the kitchen-accessory that you didn't know you needed.
No Kitchen-Gadget list can be complete without our final product, Utopia Kitchen Compost Bin. Firstly, it has a great storage-capacity and can hold your kitchen-trash for a week. Secondly, its innovative lid ensures that the bin is not infested by pests or flies. It comes pre-fitted with charcoal filters which keep the foul odor at bay. All in all, this is a complete trash-can solution.

Affiliate Disclaimer: Keep in mind that we may receive commissions when you click our links and make purchases. However, this does not impact our reviews and comparisons. We try our best to keep things fair and balanced, in order to help you make the best choice for you.