Print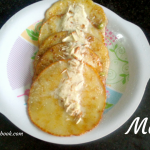 Malpua | Malpua Rabri Recipe | Malpura
Malpua is the famous Indian dessert coated with sugar syrup and serve with thick sweetened milk or rabri or khova.
FOR BATTER
All purpose flour

maida 1 cup

Khova

khoya 3/4 cup

Milk 1 glass

Water 1/4 glass
FOR SUGAR SYRUP
Sugar 1 1/2 cup

Water 3/4 glass

Cardamom 3
Take a bowl add a cup of all purpose flour (maida).

Add 1/2 cup of khoya to the bowl.

Pour milk little by little and mix well without lumps.

Add 1/4 cup of water and check the batter is not too thick. It should be smooth flowing consistency.

Close the lid and set the batter for at-least 15 minutes.
Preparing Sugar Syrup
Add sugar to the pan heat over medium flame.

Add water to the pan. Stir continuously.

Add cardamom. Let the sugar dissolve completely.

If it becomes sticky remove from fire and set aside.
Shallow Fry Malpuas
Heat a pan add ghee for shallow fry. can also deep fry them.

Pour a ladle full of batter. No need to spread it will spread according to the consistency of the batter. Can add milk or maida depending on the consistency of the batter.

Fry until turns golden.

Turn on another side and cook until it turn golden.

After frying both sides take the malpuas into the plate. Repeat the same process for all them.
Soak malpuas in sugar syrup
Dip the malpuas in the warm sugar syrup. Soak them for 10 minutes.
Topping and garnishing malpuas
Take the malpuas into the serving plate.

Top them with khoya. Add khoya and milk mix well and make to smooth and then top on the malpuas.

Garnish with chopped almonds or pistachious.